FOIL STAMPING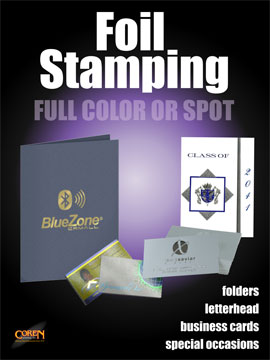 Foil is now being used to produce eye-catching business cards, letterhead (stationery), envelopes, folders and labels. What a great way to make a first impression!
In today's market, foil and ink are being combined to produce a look of prestige and distinction that will definitely cause your clients to take a second look.
With many foil colors and applications to choose from, endless ink color combinations, and a variety of paper options, a simple business card design can be turned into a marketing tool that will catch everyone's attention.